ABV
48%
Region
Speyside
Bottling
Distillery
 
Cask type

Bourbon Barrels, Grattamacco Wine Barrique Finish (6,000 btl.)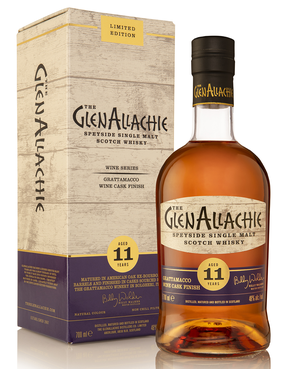 Nose
Sweet start on the palate with honey, ripe peaches and red fruits - mainly strawberries. This is accompanied by an aromatic wine note with slightly bitter orange peel and some nutmeg.
Palate
Sweet and fruity also on the palate with toffee, honey, strawberries and peaches. This is accompanied by a warming spiciness of nutmeg and oak, which becomes more noticeable with the second sip. Slightly bitter notes of orange peel appear towards the finish.
Finish
The finish is long and creamy with sweet honey and toffee. With time it becomes a little drier with nutmeg, oak and bitter orange peel.
With water
After adding a few drops of water fresher on the nose with red fruits - mainly strawberries, honey, nutmeg and bitter orange peel. Overall less fruity. Still sweet on the palate with peach, red berries and honey. However, noticeably spicier and drier in the mouth with nutmeg, oak and a hint of dark chocolate. The finish is still long with wine flavours, dark chocolate, nutmeg and dry oak.
Comments
A successful finish with the Super Tuscan barrique casks. The wine aromas marry with the distillery character to create a beautiful symbiosis of red berries, ripe peaches and sweet honey. The oak spice adds a pleasantly warming mouthfeel. No need to add water.
I thank The GlenAllachie Distillery for the complimentary sample and the photograph!