ABV
50%
Region
Speyside
Bottling
Uncharted Whisky
 
Cask type

1st Fill Sherry Butt (799 btl.)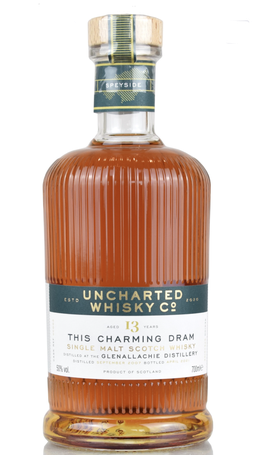 Nose
Sweet and fruity on the nose with apricots, toffee, blossom honey and butterscotch. Very aromatic with floral notes, a touch of vanilla and some oak spice in the background.
Palate
Wonderfully sweet on the palate with toffee and yellow ripe fruits, mainly apricots. In addition, honey with vanilla and butterscotch, accompanied by a spicy oak note with cinnamon and some nutmeg.
Finish
The finish is medium long and pleasantly warming with toffee, some butterscotch, a hint of walnut and a subtle oak spiciness.
With water
After adding a few drops of water, clearly more floral notes on the nose, plus apricots and passion fruit, with sweet honey and less butterscotch notes. Clearly spicier on the palate with cinnamon, white pepper, oak and even some tobacco notes. Walnut and a touch of honey appear as well. Overall, clearly less sweet. The finish is still medium long and warming, with spicy notes of cinnamon, nutmeg and oak.
Comments
This Glenallachie from the new independent bottler Uncharted Whisky Co. convinces with its beguiling sweetness of yellow fruits, honey and butterscotch. The complete maturation in a first-fill sherry butt did not overpower the distillery character, which I like very much. The drinking strength of 50% abv is optimally chosen because after the addition of water, the Glenallachie clearly loses its sweetness and beguiling aromas. Truly a charming dram!
I thank deinwhisky.de for the complimentary sample and the photograph!