ABV
58.3%
Region
Germany
Bottling
Distillery
 
Cask type

PX & Oloroso Sherry Cask (#4542, 397 btl.)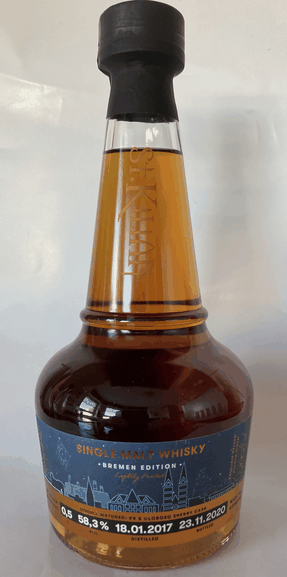 Nose
Immediately clear smoke on the nose accompanied by a sweetness of sherry, raisins and dates wrapped in bacon. This is joined by notes of BBQ, fine nut aromas and a little dark chocolate. In the background, slightly floral hints with herbs and a little lovage. An expressive and very present nose!
Palate
Wonderfully sweet on the palate with raisins, dates, sherry and creamy plum jam. This is accompanied by a powerful warmth in the mouth, a slightly alcoholic spiciness and some pepper. As soon as this warmth fades, a nice caramel sweetness arrives, accompanied by dry smoke, some oak spice as well as a hint of allspice.
Finish
The finish is long with cold smoke, a touch of peat, creamy caramel and some allspice. Great!
With water
After the addition of a few drops of water, wonderfully sweet on the nose with raisins, plums and dates. Peat smoke, oak spice and a touch of lovage. Also very sweet on the palate with sherry, plums, BBQ notes and creamy caramel. The warmth is clearly mellowed. In addition, there is some spicy oak, nutmeg, allspice and a touch of pepper. The finish is still long and creamy, slightly warming with fine peat smoke.
Comments
A fruity-smoky single malt that I really like. The sweetness of dark fruits combines wonderfully with the smoky notes and the spices from the sherry cask used. The alcohol is present, but already well integrated and provides a wonderfully long and tasty finish. For the very young age, a really great dram!