ABV
50%
Region
Ireland
Bottling
Distillery (Germany Exclusive)
 
Cask type

Virgin American Oak (22%), First-fill American Oak (46%), French Oak (15%) and Vin Doux Naturel (17%) Casks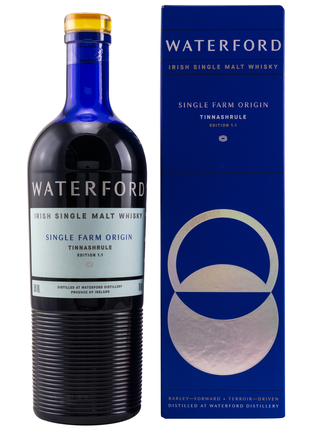 Nose
Light fruity notes on the nose with tropical fruits, melon, a hint of banana as well as pink grapefruit. In addition, orange zest, juicy barley and some ginger spice in the background.
Palate
Sweet start on the palate with vanilla, toffee and malty notes. This is accompanied by apricots, melons and some tart orange. In addition, warming white pepper, toasted bread and some spicy oak towards the finish.
Finish
The finish is medium long with warming notes of barley, slightly bitter pink grapefruit as well as spicy oak.
With water
After adding a few drops of water, a little more tropical fruit notes on the nose, plus vanilla and spicy oak. Sweeter on the palate with vanilla, caramel, honey and tropical fruits. The spicy warmth is somewhat softened. Additional notes of plum and creamy dark chocolate emerge. The finish is still of medium length with creamy honey, sweet vanilla, caramel and slightly earthy notes, plus tobacco and some spicy oak.
Comments
One place, one farm, one whisky. With the Single Farm series, the Irish Waterford distillery is launching single malt whiskies that are intended to reflect the influence of terroir. The Tinnashrule Edition 1.1 is exactly 3 years, 8 months and 14 days old and shows distinct fruit notes accompanied by sweet vanilla, toffee and caramel as well as spicy notes in a recognisable balance. By adding a few drops of water, the whisky clearly unfolds and gains enormous expressiveness and flavour. Well done for this young age!
I thank Kirsch Import e.K. for the complimentary sample and the photograph!