ABV
55.9%
Region
Speyside
Bottling
Distillery
 
Cask type

Pedro Ximénez & Oloroso Sherry Puncheons, Virgin Oak Casks and ex-Rioja Red Wine Casks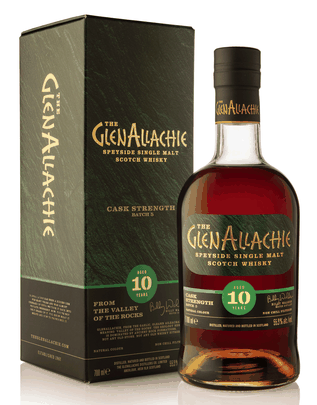 Nose
Sweet and fruity on the nose with oranges, peaches and some plums. This is joined by dried fruit, raisins and creamy caramel. Heather honey, a pinch of cinnamon, mocha and some oak spice in the background.
Palate
Sweet and creamy on the palate with heather honey, caramel, treacle and orange. Pleasantly warming with a slight alcoholic spiciness, but this subsides on the second sip. Subtle wine flavours, blackcurrants, cherries and plums with a touch of sherry notes emerge, followed by some cinnamon, nutmeg and dark chocolate towards the finish.
Finish
The finish is long lasting and pleasantly warming with slightly bitter tannins, cocoa, some oak spice, cinnamon and bitter orange zest, with a touch of almonds towards the end.
With water
After adding a few drops of water, lots of caramel, toffee and oranges on the nose, plus cinnamon and spicy oak notes. Sweet and creamy on the palate with heather honey, caramel, juicy oranges, vanilla cream, milk chocolate and fine tannins. The finish is still long, creamy with distinct oak structure, tannins, orange zest and mocha towards the end.
Comments
A wonderful, balanced and tasty single malt. The flavours of the individual casks harmonise very well with each other and result in a wonderful melange of sweetness, fruit, honey, chocolate and oak spice. A worthy successor to the legendary Batch No 4!
I thank The GlenAllachie Distillery for the complimentary sample and the photograph!