ABV
48%
Region
Highlands, Islay, and Speyside
Bottling
GlenAllachie Distillery
 
Cask type

18 Years in 1st-fill American Barrels, Sherry Butts, 2nd-fill Barrels & Hogsheads, then 3 Years in Pedro Ximénez & Oloroso Sherry Puncheons, and Appalachian Virgin Oak Casks (2,000 btl.)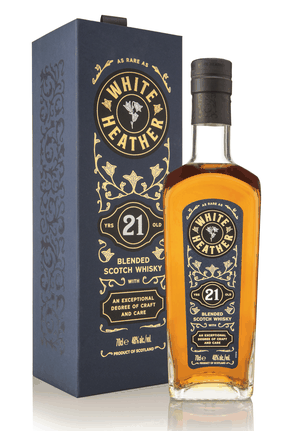 Nose
Soft, even gentle on the nose with butterscotch, honeycomb and apricot fruit. Spicy oak, tannins and a hint of mint. In the background light floral notes with a whiff of smoke.
Palate
Sweet and surprisingly powerful at the beginning on the palate. Lots of honey, plus butterscotch, juicy oranges and vanilla sweetness. With time, slightly bitter tannins and orange zest become noticeable. Towards the finish, some dark chocolate and a hint of tobacco leaves.
Finish
The finish is medium to long with creamy heather honey, plus some spicy oak, fine tannins and a touch of bitter orange zest.
With water
After the addition of a few drops of water a little more smoke on the nose, spicy honey, accompanied by sweet apricot, orange peel and discreet mint. Sweet and creamy on the palate, only slightly warming. Spicy honey with sweet vanilla, butterscotch, mint, as well as slightly floral notes, herbs and bitter orange zest towards the finish. The finish is medium long, sticky sweet with honey, plus bitter tannins and orange zest and a touch of dry oak.
Comments
Wow - what a wonderfully composed Blended Scotch whisky. Soft, round, very creamy with lots of honey sweetness and yellow fruit notes, perfectly balanced with the oak tannins and bitter orange zests. Nothing pushes itself to the fore, the purest harmony in the glass. Put together with a lot of experience by Billy Walker from a wide variety of casks. Very well done!
I thank The GlenAllachie Distillery for the complimentary sample and the photograph!