ABV
46%
Region
Germany
Bottling
Distillery
 
Cask type

Ex-Bourbon Single Cask (#80)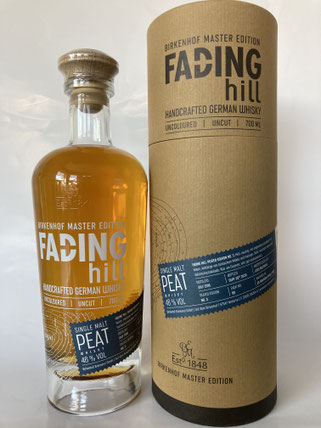 Nose
A subtle smoke is noticeable on the nose, along with fine peaty notes. Slightly phenolic and medicinal, but only very slightly. Behind that, sweet notes of malt and vanilla emerge, accompanied by apricots and pear fruit. In the background, subtle roasted aromas and a little milk chocolate.
Palate
Again, first smoke and roasted aromas, followed by caramel and sweet vanilla. Plus a hint of pear, followed by slightly warming, spicy notes with some pepper and a hint of ash towards the finish. The spiciness clearly increases with the second sip.
Finish
The finish is medium long with smoke and a mocha note, plus light phenolic tones and cold ash towards the end.
With water
After adding a few drops of water, less smoke in the nose, plus a fine mocha note, a little more vanilla and pear aromas. Also less smoke on the palate, but the fruit flavours are missing. Instead, clearly more spicy notes, pepper and oak tones, followed by caramel and a dry mocha note. The finish is medium long with creamy sweetness of vanilla and malt, plus a hint of pear with distinct dry oak towards the end.
Comments
A harmonious, slightly smoky German single malt with a nice balance of sweetness, fruit and phenolic notes. No flavour pushes itself to the fore, everything is well balanced. Not very complex, but a nice dram to drink and relax. There is no need for adding water to it.
I thank Birkenhof Brennerei for the complimentary sample!