ABV
46%
Region
Germany
Bottling
Distillery
 
Cask type

Oloroso Sherry Cask, Amercian Oak, Pinot Noir, Port Wine and Ex-Bourbon Casks (Final Cask #148, #323, #556, 955 btl.)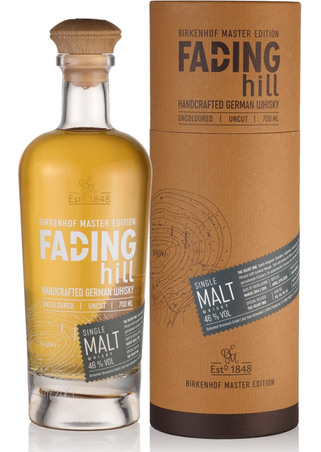 Nose
Fruity and fresh on the nose with vanilla, honey and apricot. Accompanied by wine aromas, a squeeze of lime, fresh mint and some butterscotch. Very pleasant without disturbing alcohol.
Palate
Sweet on the palate with vanilla, apricot and other fruits, plus honey and subtle wine aroma. This fruit sweetness is accompanied by a dense peppery and slightly warming spiciness. Caramel tones and a hint of red currants are added to this.
Finish
The finish is medium long, slightly spicy and creamy with yellow fruit and honey. Becomes a little drier towards the end.
With water
After adding a few drops of water, fresher and more tangy on the nose with red currants, apricot, sweet vanilla and a hint of mint. Still sweet on the palate with vanilla, creamy caramel and some red berries. In addition, a little more peppery notes. The finish is short to medium long, creamy sweet and slightly warming with a touch of dry oak towards the end.
Comments
This German single malt was allowed to mature in a series of oak casks and is characterised by its softness, balance and sweet fruitiness. Despite its young age, this whisky shows already a great density of flavours. The influence of the wine and port barrels is noticeable, but very subtle. Round and balanced at perfect drinking strength.
I thank Birkenhof Brennerei for the complimentary sample and the photograph!