ABV
44.9%
Region
Highlands
Bottling
Douglas Laing
 
Cask type

100% Sherry Casks (450 btl.)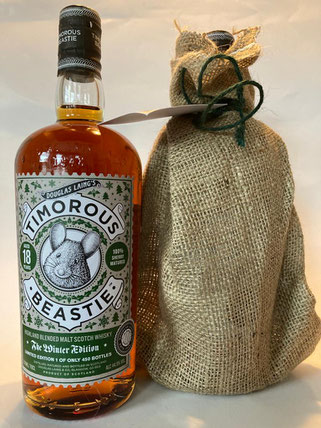 Nose
Initially fruity aromas on the nose with oranges, plums and raisins. In addition, spicy notes of star anise, cardamom and a pinch of cinnamon, accompanied by sweet vanilla and slightly bitter notes of orange peel. Very harmonious.
Palate
Discreetly sweet sherry with rum raisins and toffee on the palate. In addition, dark chocolate and noticeable oak notes, followed by cinnamon and a pleasant ginger spiciness. Herbal notes and bitter orange peel linger towards the finish.
Finish
The finish is long lasting with herbs, honey, ginger and tart blood oranges with slightly bitter oak notes.
With water
Fresher on the nose after adding a few drops of water. In addition, pepper and bitter oranges. The sweetness is pushed into the background. Creamy and sweet on the palate with honey, vanilla, toffee and juicy oranges. Plus Christmas spices of ginger, cardamom, oak and cinnamon. The finish is still long and creamy with oranges and dark chocolate. Less bitter overall.
Comments
The perfect whisky pleasure for Christmas. Oranges, rum raisins and Christmas spices in beautiful harmony. By the way, this dram goes extremely well with gingerbread.