ABV
46%
Region
Speyside
Bottling
Distillery
 
Cask type

American Oak Ex-Bourbon Barrels, ex-PX & ex-Oloroso Sherry Casks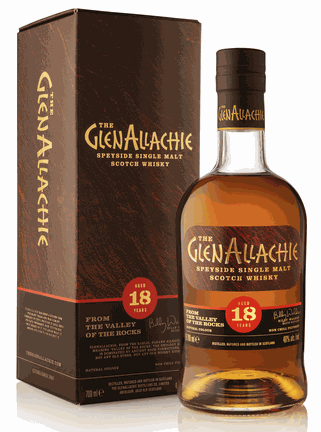 Nose
Sweet on the nose with vanilla and butterscotch. With time, citrus fruits emerge, accompanied by toffee, icing sugar, a touch of oak and ginger, with a pinch of cinnamon and marzipan in the background.
Palate
Creamy and sweet on the palate with honey, sultanas, peach and toffee. This is accompanied by a warming spiciness with oak, nutmeg and pepper. Some marzipan and traces of dark chocolate linger towards the finish.
Finish
The finish is long lasting, creamy sweet and warming with vanilla, fruit jam, toffee and some dry oak.
With water
After adding a few drops of water, more citrus fruits on the nose, accompanied by vanilla and toffee. Still sweet and creamy on the palate, but also clearly spicier with oak, pepper and nutmeg. Fruity with apricot and plums, some marzipan and a pinch of cinnamon. The finish is a little shorter, creamy and sweet with fruit jam and warming spices.
Comments
An uncomplicated, easy-drinking single malt from The GlenAllachie. A dram that may disappoint fans of (heavily) sherried whiskies, but which offers the opportunity to capture more subtle flavours that have not been overpowered by the sherry, such as honey, vanilla, toffee and yellow fruits. A whisky that is good to spend time with.
I thank Kirsch Import e.K. for the complimentary sample and The GlenAllachie Distillery for the photograph!