ABV
50.2%
Region
Highlands
Bottling
Signatory Vintage
 
Cask type

1st-Fill Sherry Butt (#900144, 812 btl.)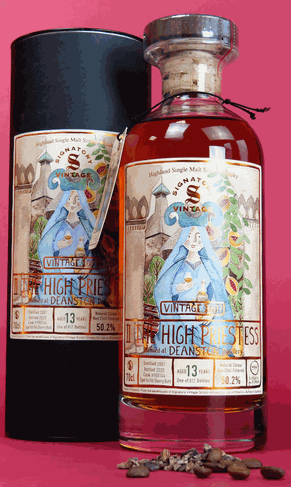 Nose
Sweet toffee on the nose with fruity notes of plums and dates. Then spicy aromas come into play with oak, tobacco leaves and leathery tones. Floral notes emerge in the background with a touch of fresh citrus peel.
Palate
Intense and subtly sweet on the palate with toffee, dates and creamy fruit notes. Warm spices from a pinch of cinnamon, some pepper and oak. Becomes slightly drier towards the finish with tobacco leaves and again the leathery notes.
Finish
The finish shows a medium length with some creamy honey, slightly bitter orange peel and warming tobacco notes.
With water
After the addition of water, clearly more alcoholic tones on the nose, plus more floral notes as well as some dates, vanilla, honey and the proven tobacco leaf note. Creamier, but also tingling on the palate with fruit notes, caramel, some espresso and tobacco leaves. Less spicy and slightly warming. The finish is still long with caramel, dry oak, tobacco and leathery notes.
Comments
A sherry cask-matured single malt that I only liked on the second sip. Despite the maturation in a first-fill sherry butt, one should not expect a sherry bomb with lush notes of raisins, molasses, cinnamon and dark chocolate. This Deanston is much more discreet in its aroma, with subtle fruit notes, warming spice tones and leather as well as tobacco leaf notes, which nevertheless provide a coherent image of a well-matured whisky from the southern Highlands.
I thank whic (Whiskycircle) for the complimentary sample and the image!