ABV
55.1%
Region
Highlands
Bottling
Wemyss Malts
 
Cask type

Sherry Butt (461 btl.)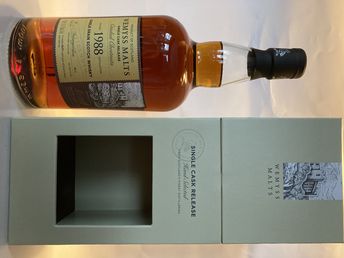 Nose
The nose starts off with old, matured sherry, blood oranges and juicy tangerines. This is followed by spicy notes of cinnamon, oak and lots of walnuts, accompanied by dark chocolate, cocoa, leather and a touch of tobacco leaves in the back.
Palate
Sweet and warming on the palate with sticky orange fruit, ripe tangerines and brown sugar. Pleasantly warming and soft with oak, cinnamon and many walnuts. Dark chocolate and dry cocoa with a hint of tobacco leaves towards the finish.
Finish
The finish is long lasting, pleasantly warming and creamy with sweet fruit jam and cinnamon. Gets drier with time, with oak, cocoa and walnuts towards the end.
With water
After the addition of water, the nose is less fruity, with more tobacco notes, dark chocolate and cocoa. Some blood orange with walnuts in the background. Creamy, sweet and fruity on the palate with lots of sherry, orange fruit, some cereals as well as chocolate and walnuts. The finish is still long, soft, creamy and fruity sweet with blood orange, cinnamon and a touch of cocoa.
Comments
Nomen est omen! Wow - after three decades of maturation in a sherry cask, this single grain whisky has taken on many chocolate and walnut flavours, which combine perfectly with the delicious spices and especially with the orange fruit. The alcohol is well integrated, the flavours are harmonious and perfect. A true soul warmer. This makes single grain whisky incredibly fun!