ABV
60.9%
Region
Highlands (Isle of Mull)
Bottling
Signatory Vintage (together with Kirsch Import for the German market)
 
Cask type

Refill Spanish Butts, Finish in Refill Côtes de Provence Hogshead for 29 Months (672 btl.)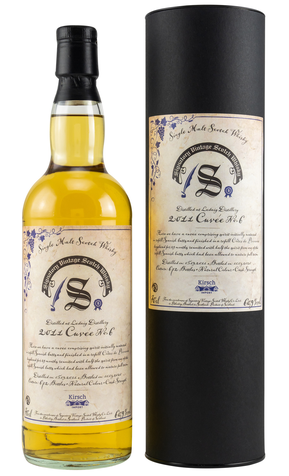 Nose
Powerful start on the nose with peat smoke, malted barley and honey. This is accompanied by dark fruit notes, raspberries and blackcurrants. Slightly peppery with honey-glazed hickory ham and some hospital kind of smell.
Palate
Sweet and at the same time dry, almost astringent on the palate. At the same time warming and intense with malt sugar, honey and vanilla, plus peat smoke, allspice, nutmeg, cloves and black pepper. Sweet notes of honey with some red berries linger towards the finish.
Finish
The finish is long lasting, warming and mouth filling with sweet notes of forest honey, malted barley, ginger and oak spice.
With water
After the addition of water, the nose tends to detect paler fruits such as peaches and apples. With it peat smoke, allspice and spicy oak. Very dry and astringent on the palate with warming ginger, pepper, allspice and peat smoke. This is followed by some honey sweetness and malt sugar. The finish is still long, warming and becomes slightly creamier with honey and vanilla.
Comments
Of the Ledaig Cuvée bottlings 1 to 6 I liked this one best. Despite powerful peat smoke and warming spices, a wonderful sweetness of honey and fruits is always present as a counterpart. Ideal for the coming cold days.