ABV
46%
Region
Ireland
Bottling
Distillery (Collaboration with Reichsrat von Buhl, Germany)
 
Cask type

Bourbon Casks, German Pinot Noir Cask Finish (3,270 btl.)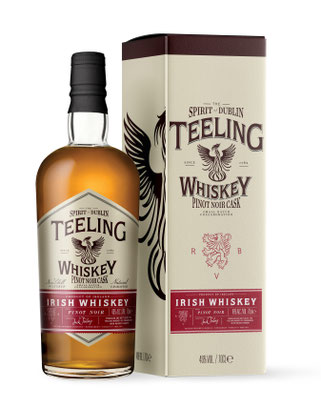 Nose
Notes of dark fruits flow into the nose with blackberries, cherries and plums. Behind this, juicy oranges, slightly floral tones, some cinnamon spice and a hint of marzipan arrive. Very nice!
Palate
Sweet and creamy on the palate with dark fruit marmalade, mainly cherries and plums, as well as some raspberries. Then warming and spicy with pepper, oak, cinnamon and slightly astringent tannins. Creamy vanilla and allspice are added.
Finish
The finish is pleasantly long and creamy with fruit jam and cinnamon. Then it dries out with notes of cocoa, some tobacco, earthy tones and slightly astringent tannins.
With water
After the addition of a few drops of water, the nose is much more powerful. Less fruity aromas, but a little toffee and vanilla, and more spicy notes of pepper, oak and ginger. Sweet on the palate at first, then much hotter with pepper and spicy oak. Warm and astringent. Then creamy fruit notes towards the finish. The finish is still long, creamy and dry with oak, cocoa and earthy notes.
Comments
A tasty, fruity and warming Irish Whiskey. A variety of dark fruits together with surprisingly intense spices form a wonderful harmony on the palate. Rich, complex, extremely delicate and optimally bottled at 46% abv.
I thank BORCO-Marken-Import for the complimentary sample and the photograph!