ABV
58.9%
Region
Highlands
Bottling
The Whisky Cellar
 
Cask type

American Oak Hogshead (#801024, 276 btl.)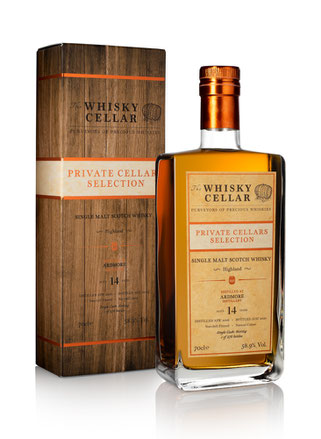 Nose
First wood smoke with roasted peanuts and earthy notes. Then honey and fruit aromas are added, grilled pineapple, apricot and vanilla. This is accompanied by spicy oak and a touch of pepper.
Palate
Sweet on the palate with vanilla cream and honey. Then immediately strongly warming, spicy and dry, even slightly astringent, with oak, chilli and ginger. As soon as this warmth fades, apricot and pineapple become noticeable, along with fine wood smoke and a touch of smoked bacon.
Finish
The finish is long lasting and becomes increasingly dry with wood smoke, spicy oak, some ash and allspice.
With water
After the addition of water, fresher on the nose with wood smoke, fruit notes and honey. In addition, proper spices and even slightly maritime tones are noticeable. Still sweet and clearly fruity on the palate with honey, apricot and pineapple. Then slightly warming and subtly spicy with pepper and oak. Remains creamy with a touch of smoked meat. The finish remains long, warming and creamy with fruit compote and subtle oak spice.
Comments
A powerful, full-bodied and pleasantly smoky Highlander. This Ardmore shows a nice spectrum of fruity, sweet and smoky aromas, which offer a nice balance and a wonderful mouthfeel on the palate. Something for the cold winter evenings.
I thank The Whisky Cellar for the complimentary sample and the photograph!