ABV
47.5%
Region
Germany
Bottling
Distillery
 
Cask type

ex-Spaetburgunder (30%), ex-Bourbon (25%) and ex-Rye Casks (45%) (6,530 btl.)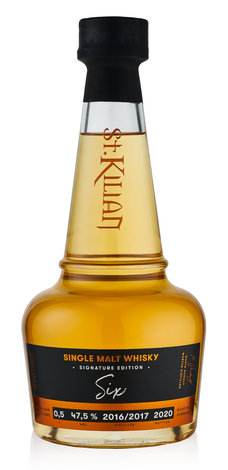 Nose
Fresh and light fruity on the nose with apricot and tropical fruits, accompanied by delicious grapes and vanilla cream. This is followed by spicy tones of ginger and some pepper with notes of malted barley in the background. Very appealing and by no means young.
Palate
Immediately creamy sweet and wonderfully fruity on the palate with grapes and again apricot as well as exotic fruits that are difficult to identify individually, banana maybe. Then a warming spiciness becomes noticeable with ginger, clearly pepper and oak. This is accompanied by slightly bitter notes of grape skin and malted barley towards the finish.
Finish
The finish is medium to long, pleasantly warming and initially sweet and creamy with barley sugar and vanilla. Then slightly bitter notes of grape skin and oak are added.
With water
After adding a few drops of water very fresh on the nose with grapes and yellow fruit jam. This is accompanied by creamy vanilla. Overall a little less spicy. Intense and spicy, however, on the palate with much more pepper and ginger. Then some vanilla, malted barley and fruit sweetness towards the finish. The finish is of medium length, very creamy with vanilla and barley sugar, then becomes a bit drier and slightly bitter with grape skin and oak.
Comments
I really enjoyed this sixth Signature Edition from St Kilian Distillers. The interplay of yellow, partly exotic fruits, creamy vanilla with barley sugar as well as the rich and warming spices create a pleasant harmony in aroma and taste. No trace of youthfulness, it seems amazingly mature. An excellent composition of the three different types of casks, skilfully created by the master distiller and blender, Mario Rudolf. Well done!
I thank St. Kilian Distillers for the complimentary sample and the photograph!