ABV
48%
Region
Islay + Speyside
Bottling
Distillery (Small Batch Series)
 
Cask type

Oloroso, Virgin Oak and Red Wine Casks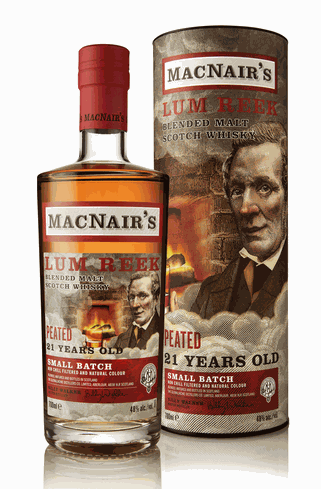 Nose
Sweet peat smoke on the nose with lovely fruity notes of apricot and peach. Honey, a hint of herbs, ginger and oak tones are added. This is followed by vanilla and butterscotch with some orange peel and dark chocolate in the background. Very soft and round.
Palate
Sweet start on the palate with vanilla and fruity apricot. Then warming notes of pepper, oak spice and ginger arrive. This is accompanied by honey, sweet smoke, some orange peel and cocoa notes, with a touch of cigar box towards the finish. Powerful and very appealing.
Finish
The finish is long lasting with honey and pleasant peat smoke. Initially creamy and wonderfully warming, it then slowly dries out with spicy oak, ginger and allspice, with some tobacco leaves towards the end.
With water
After adding a few drops of water a little fresher on the nose and more fruity with apricots and peaches. Vanilla, honey and butterscotch are added, accompanied by peat smoke and a touch of mint. Sweet and creamy on the palate with apricot jam. Then warming and prickling on the tongue with pepper, oak spice and ginger, with accompanying notes of butterscotch, honey and a touch of smoke. The finish is still long, warming and much drier with oak, ginger and a touch of ash.
Comments
A well composed, wonderfully complex, mouth-filling and balanced blended malt. Here you can taste the over two decades of cask maturation: everything is in harmony - a balance of sweetness, fruit and warming spices. Rich, multi-layered and full bodied with a lot of power. With or without the addition of water an inspiring pleasure experience.
I thank The GlenAllachie Distillery for the complimentary sample and the photograph!