ABV
46%
Region
Islay + Speyside
Bottling
Distillery (Small Batch Series)
 
Cask type

1st-Fill Bourbon, Pedro Ximénez and Red Wine Casks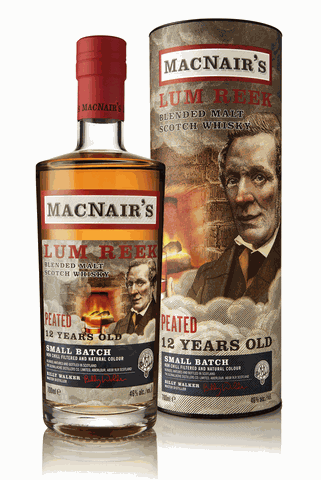 Nose
Fresh citrus notes on the nose, lime, vanilla and butterscotch. The whole is accompanied by clear peat smoke, a little spicy oak and cloves. In the background notes of cocoa and a whiff of coffee.
Palate
Sweet vanilla cream and some honey on the palate, accompanied by light fruit notes of peach and apricot, with a touch of grilled banana and toffee. Then pleasantly warming with peat smoke, some herbal notes and spicy tones of oak, nutmeg, cloves with a pinch of cinnamon.
Finish
The finish is medium to long, pleasantly warming and initially sweet with creamy honey and peat smoke, then becomes increasingly dry with spicy oak, cloves, allspice and a touch of ash.
With water
After the addition of a few drops of water, fresher on the nose with fruity notes of lime and apricot, accompanied by vanilla and a little less peat smoke. On the palate, however, less sweetness than before and more spiciness with pepper, oak, allspice and nutmeg. Also less peat smoke with some caramel tones towards the finish. The finish is of medium length, slightly warming and dry with dark toffee, oak spice and allspice with a touch of peat smoke.
Comments
A well composed, smoky and sweet blended malt. The mix of first-fill Bourbon barrels and former PX sherry and red wine casks provide creamy vanilla and toffee, sweet fruit and intense spices. Everything is well balanced and perfectly accentuated with a suitable alcohol content of 46% abv. A welcome companion for the cooler evenings to come.
I thank The GlenAllachie Distillery for the complimentary sample and the photograph!