ABV
46%
Region
Islay + Speyside
Bottling
Distillery (Small Batch Series)
 
Cask type

1st-Fill Bourbon, Oloroso, Virgin
Oak and Red Wine Casks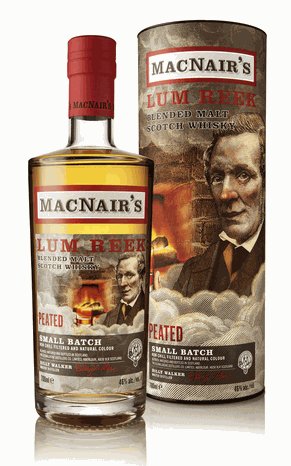 Nose
Intense peat smoke on the nose with malted barley, vanilla and malt sugar. Accompanied by light fruity notes with some apricot, white pepper and dark chocolate.
Palate
Initially sweet notes of barley, malt sugar and vanilla, then warming with clear peat smoke and notes of ash. This is accompanied by earthy tones, some burnt heather, spicy oak, pepper and a hint of cloves. The pleasant warmth and spiciness increase with the 2nd sip.
Finish
The finish is of short to medium length, warming and initially sweet with malted barley and a touch of vanilla. It then dries quickly with spicy oak and cloves.
With water
After the addition of a few drops of water, fresher on the nose with malted barley, peat smoke, ash notes and white pepper. Sweet and creamy on the palate with malt sugar, vanilla, honey and some apricot. Accompanied by lightly warming and spicy peat smoke. The finish is slightly shorter and pleasantly warming with creamy honey, spicy oak, vanilla and some peat smoke. Overall less dry.
Comments
A nice all-day dram with a multi-layered taste profile. Pleasant interplay of peat smoke and sweet cereal notes with earthy, spicy tones. A versatile blended malt whisky that still knows how to please even with a few drops of water.
I thank The GlenAllachie Distillery for the complimentary sample and the photograph!