ABV
55.2%
Region
Lowlands
Bottling
Douglas Laing (exclusively bottled for deinwhisky.de)
 
Cask type

Refill Butt (#DL14103, 355 btl.)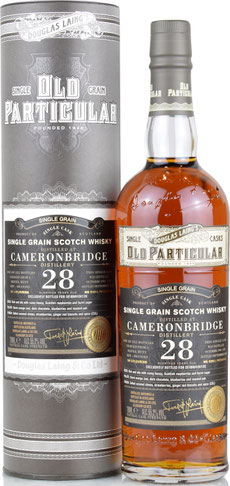 Nose
Immediately notes of aged sherry flow into the nose, accompanied by honey, oranges and caramel. Accompanied by some blueberry, oranges and dark chocolate with spicy oak, some cinnamon and a touch of walnut in the background. The alcohol is well integrated.
Palate
Deliciously sweet on the palate with sherry, creamy honey, some blueberries and juicy oranges. This is accompanied by warming notes of Christmas spices, cinnamon, nutmeg and dark chocolate.
Finish
The finish is long lasting and pleasantly warming with oak spice, ginger and nutmeg. With a light note of orange peel and walnuts towards the end.
With water
After adding a few drops of water, a little more freshness on the nose with juicy oranges, honey, oak spice and orange zest. Hazelnut and milk chocolate in the background. Still sweet on the palate with brown sugar, honey, biscuit and milk chocolate. Accompanied by slightly warming spices with ginger and some cinnamon. The finish is still long and slightly tingling with orange peel, nutmeg and creamy chocolate.
Comments
A great, rich and complex single grain whisky from the Lowlands. Orange fruit meets sherry, chocolate and warming Christmas spices. Single Grain, Sherry Butt and Douglas Laing - nothing can go wrong with such a combination!
I thank deinwhisky.de for the complimentary sample and the photograph!