ABV
40%
Region
Speyside
Bottling
The Whisky Cellar
 
Cask type

Refill Sherry Butt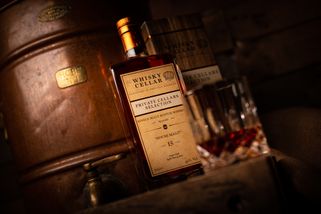 Nose
Fruity on the nose with fruit cake, ripe banana, pear and orange. Sweetness of brown sugar and toffee, accompanied by some cinnamon and Christmas spices.
Palate
Sweet, fruity and at the same time creamy on the palate with notes of honey, sultanas and barley sugar. This is accompanied by oak spice, white pepper and a little cinnamon. Pleasantly warming.
Finish
The finish is medium long and creamy with toasted bread, orange peel and some dry oak.
With water
After adding a few drops of water, it becomes more spicy on the nose with dark caramel, brown sugar and toast. On the palate a little less sweetness, a little honey, but dry notes of toasted bread, oak spice and overall slightly warming. The finish is still of medium length and drier with oak and bitter orange peel.
Comments
A sweet single malt from Speyside with a complex, difficult to describe, yet very delicate fruit, and wintery spices as a successful counterpart. Pleasantly warming with a slightly dry finish. An all-day dram for the coming winter evenings!
I thank The Whisky Cellar for the complimentary sample and the photograph!