ABV
44.1%
Region
Speyside
Bottling
Distillery
 
Cask type

First-Fill Sherry Hogshead and Refill Sherry Butt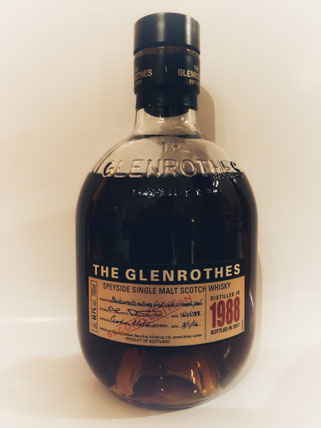 Nose
First of all, lots of sherry on the nose, accompanied by fruit cake, orange peel and a hint of baked apples. This is accompanied by somewhat fresher fruit notes of blackcurrants and dark elderberry. In the background, spicy notes of nutmeg, ginger, cinnamon and a whiff of sulphur resonate. Very enticing!
Palate
Creamy, fruity, almost jammy on the palate with dark fruits, berry compote and oranges. This is accompanied by a slightly warming spiciness consisting of nutmeg, oak and some cinnamon. Fresh and slightly acidic notes of blackcurrant nicely linger towards the finish.
Finish
The finish is medium to long lasting, mouth-filling and initially creamy with sticky fruit. Then it moves on to dry notes of cocoa, dark chocolate, leather, some tobacco leaves and a touch of oak.
With water
After adding a few drops of water, this single malt becomes more lively on the nose with oranges, sherry, dates and a touch of cinnamon. Delightfully sweet on the palate with old-style sherry, orange marmalade and dark berry fruits, together with fresh blackcurrants. The finish is of medium length with creamy milk chocolate as well as notes of nutmeg and some dry oak.
Comments
A wonderful old-school sherried dram. In addition to the classic sherry aromas and dark, jammy fruits, the fresh, slightly acidic notes of blackcurrants provide a lively counterpoint, wrapped in a wonderful spiciness. Very harmonious and wonderfully balanced. Nothing dominates, nothing disturbs. This is the way whisky must taste, at least for me.