ABV
48%
Region
Speyside
Bottling
Distillery
 
Cask type

American Oak Ex-Bourbon Barrels, Spanish Virgin Oak Finish (6,600 btl.)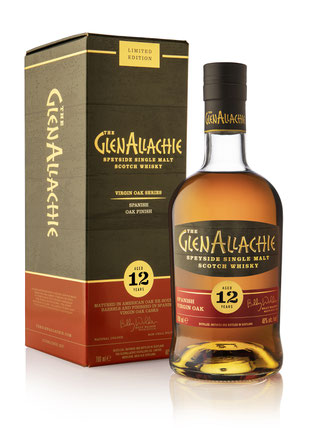 Nose
Spicy on the nose with honey, orange and ginger. This is accompanied by fruity notes of orange and exotic fruit, mainly coconut. In the background, spicy oak resonates.
Palate
Initially spicy on the palate, dry and slightly astringent. Then sweet honey, followed by orange and coconut aromas. Slightly warming with ginger, white pepper and creamy milk chocolate. Some oak towards the finish.
Finish
The finish is of medium length, slightly dry and spicy, with creamy milk chocolate, notes of bitter orange peel, ginger and dry oak spice.
With water
After the addition of water, notes of creamy milk chocolate on the nose, followed by exotic fruits and some coconut. Spicy hints of white pepper and ginger. Spicy and creamy at the same time on the palate with oak, ginger, honey, vanilla, milk chocolate and a touch of coconut. The finish is still of medium length with dry and spicy notes of oak, ginger, orange peel and tannins.
Comments
This GlenAllachie Single Malt with the Spanish virgin oak finish is clearly the spiciest of the three. Very tasty and multi-layered on the nose and palate, but much more spicy, dry and astringent than its French oak or Chinquapin oak counterpart. The fruit aromas and sweet notes do not really unfold here. For those who like it spicy and dry, however, this dram is just the right thing.
I thank Kirsch Import e.K. for the complimentary sample and The GlenAllachie Distillery for the photograph!