ABV
53.6%
Region
Lowlands
Bottling
The Whisky Cellar
 
Cask type

American Oak ex-Bourbon Barrel (#3028694, 183 btl.)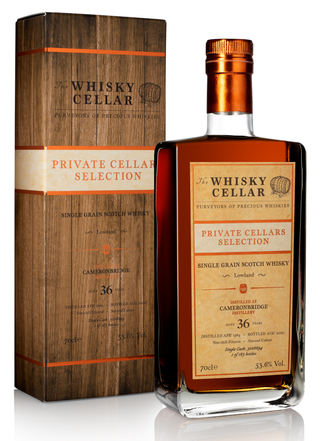 Nose
Pleasant sweet aromas of toffee, vanilla and caramel. These are joined by notes of pastry, butterscotch and milk chocolate. In the background, slightly spicy notes of pine and cedar wood with a touch of coffee powder.
Palate
A wonderful sweetness spreads out on the palate with notes of vanilla, toffee and some peanut. Pleasantly warming with a touch of pepper and a slightly alcoholic bite. This is followed by plum jam, caramel, orange peel and somewhat bitter fruit notes.
Finish
The finish is long lasting, warming with a slight peppery note. This is accompanied by creamy notes of ripe orchard fruit and a little dry oak spice.
With water
After the addition of a few drops of water even more intense on the nose with vanilla, toffee and fruit. Still very sweet on the palate with creamy vanilla, toffee, oranges, some spicy oak and white pepper. The finish is still long and warming with creamy orchard fruit jam and a touch of dry oak spice.
Comments
A wonderfully old, well matured single grain whisky. Delicious sweetness mingles with spicy fruit aromas and well-dosed oak notes to a harmony of all senses. It is no longer a secret that long matured grain whiskies are excellent golden nectars.
I thank The Whisky Cellar for the complimentary sample and the photograph!