ABV
48%
Region
Speyside
Bottling
Distillery
 
Cask type

American Oak Ex-Bourbon Barrels, French Virgin Oak Finish (6,600 btl.)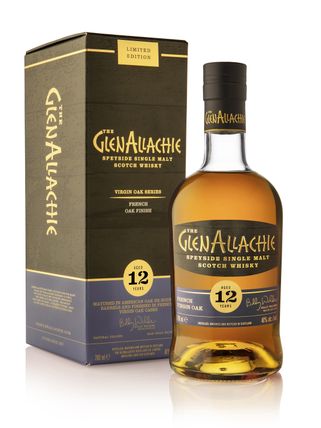 Nose
Sweet on the nose with honey, toffee and orange blossom, accompanied by delicious vanilla. Spicy notes of nutmeg and a little oak are joined by a touch of coffee aromas in the back.
Palate
A pleasant, creamy sweetness is immediately noticeable on the palate with toffee, forest honey and caramel. Then immediately follows a warming spiciness of nutmeg and oak. The creamy sweetness is gradually accompanied by slightly bitter notes, especially orange oil, coffee, and some pink grapefruit.
Finish
The finish is long lasting and lovely warming with dark caramel notes, a pinch of cinnamon and some nutmeg. Becomes a bit drier towards the end with slightly spicy oak and cocoa.
With water
After adding a few drops of water, the nose becomes more spicy with honey, caramel, coffee notes, oak and a little pepper. Still creamy and sweet on the palate, but also spicier with more dry notes of caramel and tannins. The finish is slightly shorter and warming with prickling oak spice, tannins and cocoa towards the end.
Comments
A harmonious single malt bottling from The GlenAllachie. Delightfully sweet notes of honey, vanilla and caramel complement spicy oak, soft tannins and dry cocoa/coffee aromas to create a pleasantly warming and comforting drinking experience. A dram to enjoy, relax and dream, and perfectly bottled with an alcohol content of 48%.
I thank Kirsch Import e.K. for the complimentary sample and The GlenAllachie Distillery for the photograph!