ABV
56.5%
Region
Speyside
Bottling
The Whisky Cellar
 
Cask type

American Oak ex-Bourbon Hogshead (#10, 227 btl.)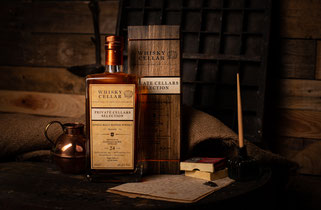 Nose
Refreshing start on the nose with delicious citrus notes, apricot, vanilla ice cream and butterscotch. Toffee and spicy aromas of ginger, nutmeg and a hint of oak are added. With time, more and more tropical fruits emerge, even more vanilla, citrus and slightly bitter orange peel. Very beguiling!
Palate
First sweet and fruity on the palate with vanilla and apricot compote, then strongly warming with white pepper and ginger, plus some oak spice. As soon as the warmth fades, passion fruit and citrus notes emerge. Afterwards, some bitter notes of orange peel. Very voluminous and mouth-filling. One can almost chew this whisky.
Finish
The finish shows a wonderful length, is creamy with chocolate and butterscotch. It is accompanied by floral notes and a little grassy aromas. Nutmeg and ginger with oak provide a pleasantly warming spiciness. Great!
With water
After the addition of water very fresh on the nose with significantly more citrus fruit and spicy aromas of tobacco notes and cigar box. Sweet and at the same time prickling on the tongue with buttery aromas, limes, dates and a slight peppery spiciness. Significantly less warming. The finish is still long and creamy with milk chocolate as well as dry oak and some floral notes. Finally toffee and walnut.
Comments
A wonderfully fruity, complex and rich single malt that is surprisingly fresh despite its age. The nose is outstanding, absolutely beguiling, on the palate multifaceted, fruity, warming, spicy, floral and almost chewable. The finale allows all aromas to linger in a concentrated manner. Wow - what a dram!
I thank The Whisky Cellar for the complimentary sample and the photograph!