ABV
48.6%
Region
Lowlands
Bottling
Distillery
 
Cask type

Refill Sherry Butts (62%) and Refill Bourbon Hogsheads (38%) (4,350 btl.)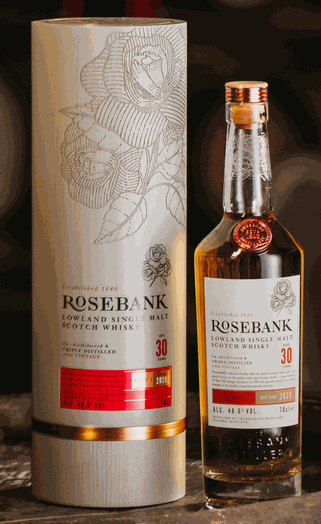 Nose
Surprisingly lively, fresh and fruity on the nose with yellow fruits, ripe pears, light grapes and some mango. Later ripe apples and banana are added, accompanied by vanilla ice cream, honey and a subtle caramel sweetness. In the background a spice mix of nutmeg, ginger and white pepper is noticeable. Only a little oak wood for the 30 years of maturation.
Palate
Unexpectedly powerful on the palate with a spicy warmth of nutmeg and white pepper. This is accompanied by sweet toffee, creamy vanilla and a lot of tropical fruits. Very well balanced with spicy oak and ginger aromas. In addition, a little bitter orange peel in the background. Silky smooth, creamy and spicy with a touch of nut towards the finish.
Finish
The finish is long lasting and pleasantly warming with a floral note, some chamomile and mint. This is accompanied by slightly bitter orange notes and dry oak towards the end.
With water
After adding a few drops of water very fruity and beguiling of tropical fruits, citrus fruits - limes and oranges. With creamy vanilla and oak in the background. Sweet and fruity on the palate with lively notes of orange lemonade. Accompanied by spicy aromas of oak, nutmeg, ginger and a touch of pepper. Creamy and slightly dry. The finish is still very long, slightly warming with notes of caramel, nutmeg, a hint of mint and drying oak.
Comments
A beguiling, enticing, full-bodied single malt appealing to all senses in perfect balance. After three decades of maturation in oak casks, the intoxicating fruit aromas dominate here, which present themselves in harmonious unity with the spicy notes from the wood. The oak remains discreetly in the background. A perfectly matured single malt that has lost none of its freshness, tangyness and liveliness after so many years of aging. Only one question remains: Why was this distillery closed in 1993 at all? Thank God it is currently being brought back to life!
I thank Ian Macleod Distillers for the complimentary sample and the photograph!