ABV
56.8%
Region
Highlands
Bottling
The Whisky Cellar
 
Cask type

Refill Sherry Butt, 1st-fill Oloroso Sherry Quarter Cask Finish (#14, 160 btl.)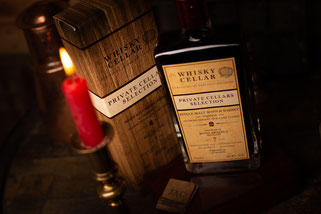 Nose
Rich and intense with sherry, raisins, dates, stewed fruits and fig jam. These are joined by wonderful spicy notes of cinnamon, nutmeg and a little liquorice, with dark chocolate in the background.
Palate
A powerful start on the palate with a sweetness of dark compote and brown sugar, then spicy and slightly astringent notes of liquorice, nutmeg, cinnamon, pepper, oak and tannins. After the warmth fades away, ripe and creamy notes of figs and dates reappear, together with lingering walnuts.
Finish
The finish is very long, pleasantly warming and creamy with dark fruit compote and increasingly dry notes of dark chocolate, cocoa, bitter orange peel and a touch of tannins.
With water
After adding some water, more sherry notes on the nose, dark fruits with cinnamon, but also increasingly bitter aromas of tobacco leaves and a few herbs. Very sweet on the palate with creamy, almost sticky jam of dark fruits, plus a slightly warming spice of cinnamon, white pepper, nutmeg and some oak. The finish is still very long and slightly warming with more dry and bitter notes of dark chocolate, liquorice, tobacco leaves and oak.
Comments
This Highlander delivers what the colour and label "1st-fill Oloroso Sherry Quarter Cask Finish" promise. A single malt with a creamy, sticky fruit sweetness that you can almost chew. Great sherry cask flavours with a warming counterpart of winter spices. Sweet, rich, spicy, heavily sherried and pleasantly mouth-filling.
I thank The Whisky Cellar for the complimentary sample and the photograph!