ABV
48.6%
Region
Highlands
Bottling
The Whisky Cellar
 
Cask type

American Oak ex-Bourbon Barrel (#18278, 188 btl.)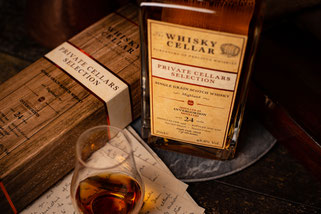 Nose
The nose is wonderfully intense with sweet vanilla, honey, cereals and cookies. This is accompanied by buttercream, notes of coconut and a hint of pineapple fruit. In the background, oak spice and ginger remain discreetly present. Rather complex and delicate.
Palate
Wow - an unexpectedly powerful entry on the palate with spicy and at the same time strongly warming notes of ginger and black pepper. The whole is underlined by a creamy sweetness with vanilla and butter cookies. As soon as the warmth fades, coconut notes emerge accompanied by honey and creamy milk chocolate.
Finish
The finish shows a medium length with creamy notes of apricot and tropical fruit jam, accompanied by a slightly warming oak note and a touch of coconut.
With water
After adding a few drops of water, the aroma on the nose is even more intoxicating with tropical fruits - pineapple and coconut. It is accompanied by vanilla, oak spice and some cedar wood. Sweet and creamy on the palate with a clearly tamed spiciness and warmth. Vanilla, coconut, buttercream and sweet milk chocolate with some tropical fruit. The finish is still of medium length, yet sweet and creamy, with fruit jam, coconut and a little more dry oak.
Comments
Oh yes, this is another example of how wonderfully sweet, creamy, complex and beguilingly well-matured single grain whisky can be. After 24 long years of maturation in an ex-Bourbon barrel, this Invergordon combines an intense sweetness and tropical fruit aromas in a beautiful balance with spicy oak notes. Surprisingly intense on the palate, so you are welcome to experiment with water. As a result, this Grain Whisky does not lose any of its brilliance. Well done!
I thank The Whisky Cellar for the complimentary sample and the photograph!