ABV
60.4%
Region
Highlands (Isle of Mull)
Bottling
Signatory Vintage (together with Kirsch Import for the German market)
 
Cask type

Refill Spanish Butts, Finish in Refill Bordeaux Hogshead for 34 Months (572 btl.)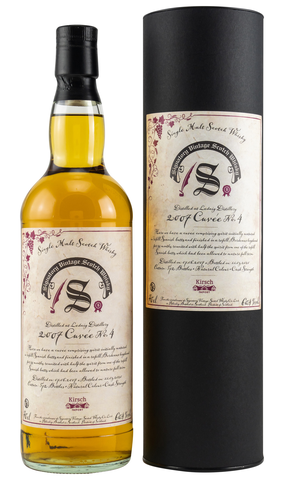 Nose
Sweet notes on the nose with vanilla, apricot and red berries, accompanied by malted barley and campfire smoke. Very harmonious and pleasing. The high alcohol content is always present, but not pungent.
Palate
First sweet on the palate with vanilla and barley sugar, then very warming with an alcoholic spiciness, pepper and even chilis, accompanied by astringent tannins from the wine cask. As soon as the heat fades, creamy vanilla and apricot jam with sweet red grapes appear, followed by slightly bitter notes of grape skin and seeds. The whole is subtly wrapped in fine peat smoke.
Finish
The finish is long lasting, warming and creamy with vanilla. Then becomes drier with oak, some allspice and slightly bitter grape skins. Some smoke and ash notes towards the end.
With water
After the addition of water, the nose is much more peppery with slightly floral notes and wood fire smoke. Behind this, red grapes and winy notes emerge. Sweet and only slightly warming on the palate, but very tingling on the tongue with pepper and dry notes of tannins. A little vanilla, followed by ash and smoke. The finish is still long and slightly warming, becoming increasingly dry with grape skin, bitter grape seeds, smoke and ashes.
Comments
A powerful, vanilla-sweet and at the same time spicy-smoky Ledaig. In my opinion, the influence of the Bordeaux wine cask is more noticeable here than in the Cuvée bottling No 2. The grape notes are particularly well expressed on the palate. By adding water the sweetness is lost and more dryness emerges.