ABV
60.8%
Region
Highlands (Isle of Mull)
Bottling
Signatory Vintage (together with Kirsch Import for the German market)
 
Cask type

Refill Spanish Butts, Finish in Refill Burgundy Hogshead for 29 Months (674 btl.)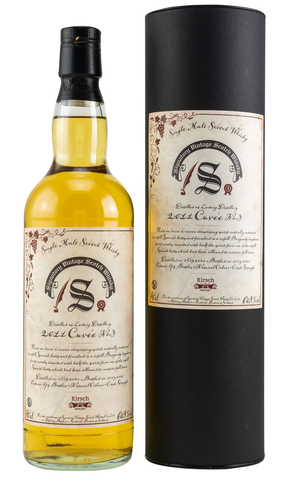 Nose
Sweet on the nose with vanilla and dark fruit, strawberry and red currant. In addition, slightly burnt malted barley as well as subtle smoke. The high alcohol content is not pungent.
Palate
There is an unexpected amount of sweetness on the palate with creamy vanilla, barley sugar and fruity strawberries. Then increasingly warming and powerful with an alcoholic spiciness, black pepper, ash notes and allspice, all wrapped in fine wood smoke.
Finish
The finish is long lasting and warming with slightly bitter grape notes. Becomes increasingly dry with smoke, slightly earthy notes and oak spice.
With water
After adding a few drops of water, both the creamy sweetness and the fruity notes fade into the background and smoke remains. However, the vanilla sweetness is still noticeable on the palate with light fruity notes of strawberry and red currant. This is accompanied by burnt caramel and some pepper spice. Overall only slightly warming. The finish is somewhat shorter with a touch of creamy vanilla and fine smoke.
Comments
This young Ledaig convinces with its surprising sweetness, which unfolds both on the nose and the palate. The fruity and somewhat earthy notes from the Burgundy cask are discreetly noticeable and, together with the sweetness, withstand the strong alcoholic bite and oak spice. Despite its high alcohol content, this convincing Ledaig does not need water.