ABV
65.4%
Region
Speyside
Bottling
Scotch Malt Whisky Society (SMWS)
 
Cask type

First-Fill Spanish Oak Sherry Butt (608 btl.)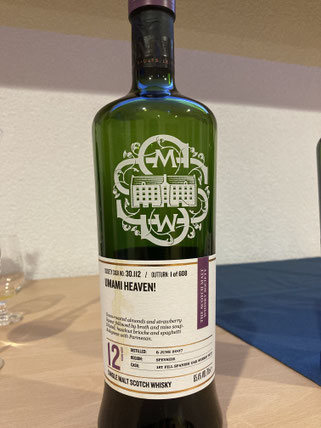 Nose
Sherry notes on the nose with a meaty undertone, raisins and dried plums. Spicy with pepper and a touch of Maggi herb, along with notes of strong, black tea and a hint of sulfur.
Palate
Very intense on the palate. Sweet sherry notes with raisins and orange, followed by an enormous warmth and alcoholic spiciness with pepper. Mouth-filling and oily with slightly fleshy notes, accompanied by cinnamon and nutmeg, with a hint of sulfur towards the finish.
Finish
The finish is long-lasting and warming with notes of black tea and dark chocolate, accompanied by fine nutty flavours.
With water
After adding a splash of water a lot of sherry on the nose with raisins and oranges, oak spice and pepper. The fleshy notes fade into the background. Much less intense on the palate with dry sherry notes, raisins and oranges. Slightly warming with spices, including pepper, cinnamon, nutmeg and a hint of chili. The finish is still long and slightly warming with sweet sherry, raisins and walnut notes.
Comments
An extremely powerful, robust and sherried Speyside dram. The name says it all: the fleshy notes are easily recognizable in undiluted whisky and are beautifully balanced with the sherry sweetness, dark fruit and strongly warming spices. The addition of water is clearly recommended here. The whisky gains in sweetness and the alcoholic spiciness disappears more and more. A dram, for which one should take a lot of time. But it's worth it!