ABV
60.6%
Region
Highlands (Isle of Mull)
Bottling
Signatory Vintage (together with Kirsch Import for the German market)
 
Cask type

Refill Spanish Butts, Finish in Refill Bordeaux Hogshead for 29 Months (643 btl.)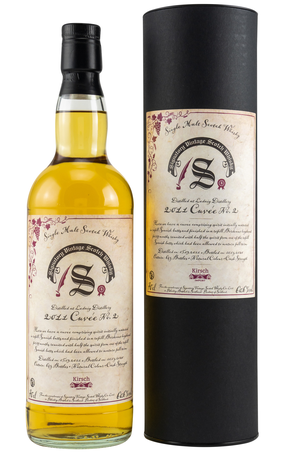 Nose
Discreet smoke at the beginning, burnt wood with vanilla sweetness and some malted barley. Then fruity notes of citrus and grilled apricot mixed with a touch of red currant, and a hint of peat in the background. The high alcohol content is always present, but not pungent.
Palate
Very strong and intensely warming on the palate. Peppery, even some chili on the tongue. After the warmth fades, a dry sweetness of red currants and apricot jam emerges, followed by ginger spice, nutmeg and some oak. The whole is wrapped in fine peat smoke.
Finish
The finish is long lasting and warming, with some malty sweetness, smoke, ashes and cloves.
With water
After adding a few drops of water, the nose becomes much sharper with intense smoke and charcoal, followed by vanilla and sweet malted barley. The fruity notes are no longer noticeable. Clearly more tamed on the palate, but strongly prickling on the tongue. Smoke, dry oak, cloves and some ashes dominate. No sweetness or fruitiness noticeable. The finish is still long and somewhat warming with fine smoke, oak, nutmeg and cloves. At the very end a little sweet vanilla and barley sugar.
Comments
An extremely powerful and sometimes impetuous Ledaig. Strong smoky notes and spices, which are hardly kept in check by a subtle sweetness. The influence of the refill Sherry and Bordeaux casks can be recognized on the nose at best. The addition of water makes the subtle fruity notes disappear.