ABV
42.3%
Region
Scotland
Bottling
Wemyss Malts
 
Cask type

Ex-Sherry Hogsheads from Speyside, Highland and Bunnahabhain Single Malts (5,000 btl.)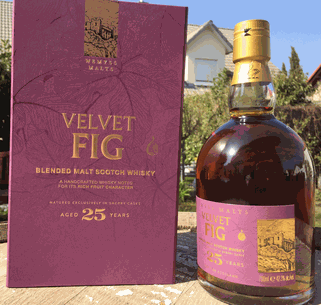 Nose
Very aromatic on the nose with fruit compote, plum jam, apricots and blackcurrants. Behind this fruit basket, notes of cinnamon and some marzipan emerge, followed by oak spice, dark chocolate, some leather and tobacco leaves.
Palate
Creamy, even sticky fruit on the palate with sweet fruit jam, cherries, plums and apricots in particular. Slightly warming spices with cinnamon and oak, followed by milk chocolate and a fine leather note with some tobacco leaves.
Finish
The finish is of medium length and slightly warming. Becomes drier with time with notes of oak, tobacco leaves, cigar box and spices.
With water
After the addition of a few drops of water more present on the nose with orange fruit, prickling spices and notes of tobacco. Initially fruity on the palate with orange and plum, but then more spicy with tobacco leaves, cigar box and liquorice. The finish is short, spicy and very dry with oak and again tobacco notes.
Comments
A beautiful, round and matured Blended Malt, combined from different sherry casks, which also contain old Bunnahabhain single malts from 1988. The maturity is clearly noticeable, but also the influence of the casks, which manifest themselves in dark fruits as well as spicy notes of tobacco and oak. A successful dram for which one should take a lot of time and rest.