ABV
46.2%
Region
Islay
Bottling
Distillery
 
Cask type

ex-Bourbon and Oloroso Sherry Casks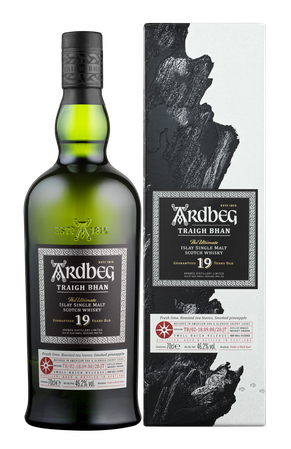 Nose
Sweetish on the nose with wood smoke and BBQ notes, accompanied by some soot and ashes. This is joined by fruity aromas of grilled apricot and pineapple, with some burnt toast in the background.
Palate
A slight sweetness is noticeable on the palate with creamy vanilla and fruity notes of apricot. Pleasantly warming with a fine spiciness of oak, allspice and a hint of celery. The whole is accompanied by subtle peat smoke as well as some ashes and chimney air. A touch of tangy lime and some roasted peanut aromas linger towards the finish.
Finish
The finish shows a nice length with warming notes of peat smoke, some dry oak and slightly burnt caramel.
With water
Much more intense in the nose after adding a few drops of water. Smoke and peat are more evident, accompanied by medicinal notes and a touch of celery. The fruit aromas fade into the background. On the palate, only a subtle sweetness is noticeable, but clearly spicier with black pepper, accompanied by peat smoke and soot. Burnt caramel with subtle peanut aromas linger towards the finish. The finish is of medium length with clearly dry oak, ash and fine peat smoke.
Comments
An Ardbeg tamed by almost two decades of maturation that knows how to please. Very well balanced with a complexity and great harmony of aromas resulting from the different cask types. Smoke and peat are pleasant companions of grilled fruit aromas and nicely warming spicy notes from the wood.
I thank Moët Hennessy Germany for the complimentary sample and the image!