ABV
61.8%
Region
Speyside
Bottling
whic (Whiskycircle)
 
Cask type

1st-Fill Sherry Butt (#9683, 329 btl.)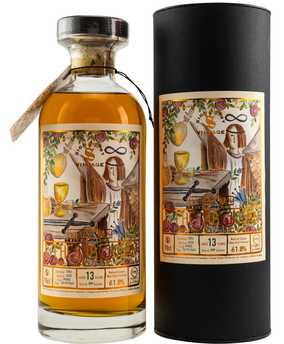 Nose
Notes of ripe sherry, together with dark dried fruit, cherries and dates. Caramel, dark chocolate and cinnamon are added, followed by some furniture polish as well as spicy notes of nutmeg and a touch of oak.
Palate
Powerful with an initial creamy sweetness of toffee and raisins. Then clearly warming and also spicy with cinnamon, oak, nutmeg and black pepper. Dark chocolate, herbs and oak linger towards the finish.
Finish
The finish shows a medium length with dry notes of wood, cocoa, herbs, leather and pepper.
With water
After the addition of water it becomes fresher and more floral on the nose with sherry, dates, fine hazelnut aromas, toffee and chocolate. Still sweet and warming on the palate with dark fruits, chocolate, pepper and cinnamon. The finish is still medium long and dry with cocoa, oak, herbs and leather.
Comments
A powerful, sherry cask-matured Glenrothes, which for me is not the classic sherry bomb. I like it because the fruity, spicy and herbal aromas are not overpowered by a sherry sweetness. You can play with water, but in my opinion not much changes. A promising start for a new bottling series. Sherry aficionados, however, might be a bit disappointed.
I thank whic (Whiskycircle) for the complimentary sample and the image!