ABV
46.6%
Region
Highlands
Bottling
Distillery
 
Cask type

Virgin European Oak and 1st-Fill Oloroso Sherry Casks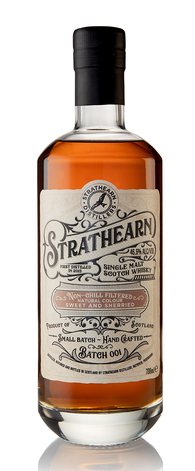 Nose
Clear sherry aromas with additional notes of orange and chocolate covered cherries. Caramel, hazelnut aromas and fresh herbs are added.
Palate
Sticky sweet with sherry, raisins and dark fruit compote. Added to this are warming spices - ginger, nutmeg, some cinnamon - with oak and a peppery note. Becomes creamier again for the finish, but also slightly drier with orange zest and dark chocolate.
Finish
The finish shows a nice length with creamy fruit marmalade notes. It then becomes pleasantly dry with notes of coffee, cocoa and a touch of oak.
With water
After adding a few drops of water, the sweet sherry aromas are preserved, more dry cocoa notes are added, accompanied by more oak and unripe walnut. On the palate it remains sweet and creamy with cherries, oranges and brown sugar, followed by warming spices. The finish is slightly shorter and dry with notes of cocoa, espresso and walnut.
Comments
Hard to believe that this single malt is only three years old. Maturation in small virgin European oak and 1st-fill sherry casks brings both colour, aromas of dark berries and sweetness, which already harmonise well with the oak notes and spices. A distillery in the Southern Highlands, now under the direction of Douglas Laing, which will certainly continue to make a name for itself in the years to come.
I thank Tobi Piwek from BarleyMania for the complimentary sample and Douglas Laing  for the photograph!