ABV
46%
Region
Speyside
Bottling
whic (Whiskycircle)
 
Cask type

First-fill Sherry Butt (388 btl.)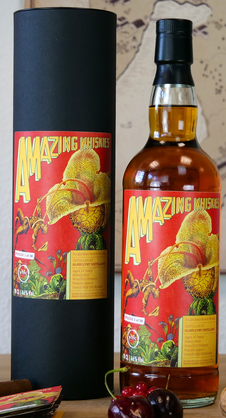 Nose
Sweet with sherry aromas, dark toffee and raisins on the nose. Then fruit notes of orange, cherry and black currant develop, accompanied by plum compote, milk chocolate and a touch of pipe tobacco.
Palate
Wonderfully sweet and slightly warming on the palate with raisins, dark cherries and creamy cappuccino. Becomes more and more chocolaty with mocha, dark chocolate, coffee crema and a slightly spicy tobacco note.
Finish
The finish is long, warming and sticky sweet, becoming drier towards the end with notes of dark chocolate, tobacco, oak spice and a hint of nutmeg.
With water
After the addition of a few drops of water slightly spicy on the nose with oak and nutmeg, while retaining the fruity aromas of orange, cherry and plum. Sticky sweet on the palate with orange, only a little dark chocolate and dry oak spice towards the finish. The finish is slightly shorter with creamy cappuccino and milk chocolate, followed by slightly dry oak.
Comments
A sherry cask aged Glenlivet, which not only pleases by its sweet fruit aromas, but also by the wonderful aromatic diversity of chocolate and coffee. With 46% abv optimally bottled. Cappuccino with a piece of Black Forest cherry cake. Isn't that wonderful?
I thank whic (Whiskycircle) for the complimentary sample and the image!