ABV
50.0%
Region
Wales
Bottling
Distillery (German Selection by Schlumberger)
 
Cask type

Ex-Jamaican White Rum Single Cask (#R13, 301 btl.)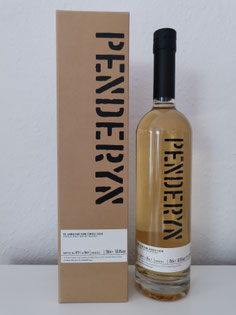 Nose
Immediately the scent of exotic fruits rises in the nose with pineapple, peach, honeydew melon and ripe banana. This is followed by notes of vanilla, rum, and slightly prickling orange lemonade, accompanied by subtle ginger and some white pepper.
Palate
Sweet, intense and slightly warming on the palate with pineapple, orange and vanilla cream. Then brown sugar, dark cherry, again some ginger spice and a touch of white pepper in the back. The alcohol is well integrated.
Finish
The finish is long and sweet with dried fruit and brown sugar. Becomes slightly dry and bitter, but not unpleasant, with candied orange and some grapefruit.
With water
After adding a few drops of water lemonade, dried fruit, pineapple and Caribbean flavor appear on the nose, with a little less pepper. Still sweet, fruity and prickling on the palate with warming spices of black pepper. The finish is still long and sweet at first, but then turns bitter with gooseberry, Seville Orange and some quince jelly.
Comments
Maturation in a white rum cask is somewhat unusual, but the result is impressive. A wonderfully fruity and aromatic single malt from Penderyn with Caribbean flair, which makes you want more, especially in summer time. But be careful: this one is dangerously tasty!
I thank Schlumberger Vertriebsgesellschaft mbH & Co. KG for the complimentary sample and the photograph!