ABV
61.8%
Region
Isle of Islay
Bottling
Signatory Vintage for whic (Whiskycircle)

Cask type

Ex-Wine Cask (#325551, 275 btl.)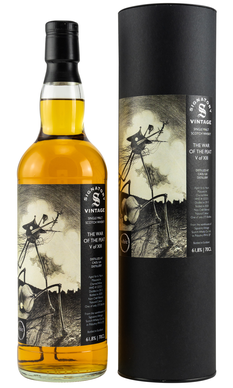 Nose
Campfire smoke on the nose with salty air and aromas of smoked ham. Then sweet cereals, with some fruit - apple, peach and grapefruit, accompanied by honey, cloves and salty caramel. The high alcohol content is noticeable but not pungent.
Palate
Intense start on the palate with smoke and some peat as well as a strongly warming chili pepper. Relatively sharp on the tongue. As soon as this pungency fades away, fruity wine aromas emerge, accompanied by creamy honey and vanilla, before the whole is wrapped in cold smoke.
Finish
The finish shows a nice length. It is oily on the tongue, accompanied by smoke, some grapefruit and dry oak and cloves.
With water
After the addition of water, smoke and peat aromas are joined by fruity notes of orange, cherry and some grapefruit, accompanied by vanilla cream. Still strong and peppery on the palate, also spicy with oak, cloves and allspice. Less sweetness and fruit. The finish is still long and slightly warming with smoke, ashes and a touch of grapefruit.
Comments
A young Caol Ila, bursting with power and pepperiness. It is still quite harmless on the nose, but shows its full strength on the palate. One can confidently add a fairly amount of water.
I thank whic (Whiskycircle) for the complimentary sample and the image!