ABV
57.8%
Region
Speyside
Bottling
Distillery (exclusively bottled for deinwhisky.de)
 
Cask type

Oloroso Sherry Puncheon (#5584, 678 btl.)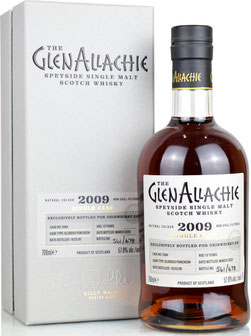 Nose
A typical sherry cask matured whisky with a potpourri of steamed dark fruit, raisins, dates and some blood orange on the nose. Sweet with brown sugar and sherry, followed by oak spice, tobacco leaves, cigar box and a subtle herbal note.
Palate
Sweet with sherry and a creamy compote of dark, ripe fruit. Then pleasantly warming with oak spice, nutmeg, brown sugar and some cinnamon. A touch of bitter orange with dark chocolate, cocoa and subtle walnut linger towards the finish.
Finish
The finish is long lasting, warming and initially creamy sweet. Then it dries slightly with grapefruit, dark chocolate, coffee aroma and a subtle nutty note.
With water
After adding a few drops of water, a little more freshness on the nose with dark fruit, rum raisins, sherry, brown sugar and notes of old leather. Wonderfully sweet and creamy on the palate with fruit jam, raisins and figs. These are joined by notes of dark toffee, cinnamon and a little walnut. Overall less warming. The finish is still long and creamy, becoming dry towards the end with cocoa, coffee aroma and a touch of walnut.
Comments
What the wonderful colour of this Oloroso Sherry Puncheon matured single cask bottling may suggest is fully confirmed by nose and palate. A voluminous single malt with a potpourri of dark ripe fruit, creamy sweetness, fine tobacco notes, dark chocolate and warming spices. The alcohol is well integrated - but it is still worth playing with water, as it makes the GlenAllachie even more sweet and creamy.  For me a lovely dram and certainly something for the sherry aficionados, too.
I thank deinwhisky.de for the complimentary sample and the photograph!