ABV
52.5%
Region
Germany
Bottling
Distillery
 
Cask type

Five Different Virgin Oak Casks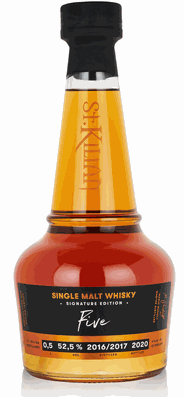 Nose
Fresh on the nose with lots of vanilla sauce and toffee. This is joined by notes of light fruit, apricot and a little citrus. Besides various herbs that are hard to describe, there is a good portion of oak mixed with cedar wood. Aromatic and appealing!
Palate
Sweet start on the palate with fruit sweetness, apricot, peach and lots of vanilla cream. Then strongly warming and peppery with oak spice. Notes of plum jam mixed with herbs. All in all creamy, remaining sweet and slightly drying towards the finish.
Finish
The finish is long-lasting, creamy sweet and gradually dries out with oak spice, subtle nutty aromas, some dark chocolate and a light note of herbal candy with a touch of grapefruit.
With water
Significantly fresher on the nose after adding a little water. Vanilla, toffee and noticeably more oak wood, with sawdust and a subtle herbal note. Only a slight vanilla sweetness on the palate, which is immediately replaced by a strongly warming and on the tongue prickling spiciness. Very peppery and dry with oak spice and sawdust. The finish is somewhat shorter and clearly dry with spiced oak, allspice, some herbs and hardly any sweetness.
Comments
This strong, oak-wood accented single malt was love at second sight. For me personally, the predominant scent and taste of fresh oak was too superficial, but over time this young malt developed a complex fruit and herbal aroma spectrum that makes you want to spend more time with it. Not an easy dram, but still worthwhile. Exciting and multi-layered.
I thank St. Kilian Distillers for the complimentary sample and the photograph!