ABV
48%
Region
Germany
Bottling
Distillery
 
Cask type

Andalusian Oloroso and PX Sherry Casks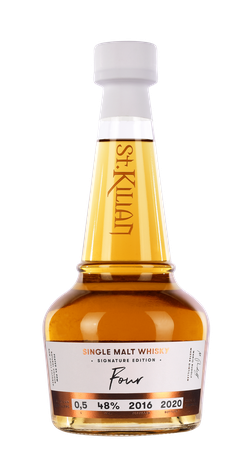 Nose
Immediately, intense campfire smoke rises to the nose, paired with a distinct sweetness of apricots, toffee, raisins and some honey. Notes of crispy bacon arrive, which later change to black-smoked ham with cold ashes.
Palate
Powerful start with peat smoke on the palate, warming and spicy with white pepper. After the warmth fades away, a creamy fruitiness of dried plums and raisins appears, accompanied by sweet toffee, sherry and dark chocolate.
Finish
The finish is of medium length with a creamy and spicy fruit sweetness, which echoes with warming smoke aromas, supported by ashes and a pinch of allspice.
With water
Significantly more sooty aromas on the nose after addition of water with notes of ash and black smoked ham. Strong with a hint of fruit aromas. Dry on the palate with warming spices, black pepper, almost chili. Becomes spicier. Then fruit notes of apricot and peach appear, followed by toffee and dark chocolate. The finish is still of medium length, dry with oak, allspice and a whiff of nutmeg. This is all wrapped in fine peat smoke.
Comments
A young, heavily peated single malt from St Kilian Distillers. The Signature Edition Four is characterized by intensive peat smoke paired with Spanish temperament. A harmonious balance of fruity sweetness, warming spices and intense campfire smoke. Certainly something for cool autumn days.
I thank St. Kilian Distillers for the complimentary sample and the photograph!