ABV
58.8%
Region
Islay
Bottling
Signatory Vintage
 
Cask type

First Fill Sherry Butt (#585, 589 btl.)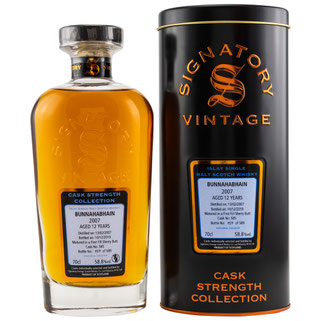 Nose
Sweet start on the nose with dates, plums, vanilla and brown sugar. Behind this are notes of milk chocolate with nutty aromas, accompanied by tobacco leaves and some fresh mint. In the background a slightly perfumed note with a waxy structure and a hint of saltiness.
Palate
Sweet and warming on the palate with creamy fruit notes, almost jammy. Accompanied by vanilla, toffee and milk chocolate, followed by a herbal note, some cinnamon and oak spice. This spiciness increases significantly with the 2nd sip and appears peppery.
Finish
The finish is long lasting, creamy with nutty milk chocolate and notes of roasted oak.
With water
On the nose, water brings more light yellow fruits to the fore, together with milk chocolate and nutty aromas. The perfumed note and the waxy structure have disappeared. Distinctly dry and peppery on the palate, almost chili-like. Oak spice and tobacco leaves with very few fruity notes in the background. The finish is still long, warming and again very dry with dark chocolate.
Comments
A lovely, unpeated Bunnahabhain from a first fill sherry butt, which clearly left room for light fruity aromas. That means: this 12-year-old single malt is not overpowered by sherry, but shows a beautiful balance of light fruit, milk chocolate and spicy oak. Surprisingly drinkable, despite the almost 59% alcohol. That's a good thing, because with water the fruit aromas are quickly lost with the single malt becoming significantly dry and, therefore for me, much less attractive.
I thank Kirsch Import e.K. for the photograph!