ABV
58.4%
Region
Speyside
Bottling
Signatory Vintage
 
Cask type

Bourbon Hogsheads, Fresh Sherry Butt Finish for 3 Months (#2, 713 btl.)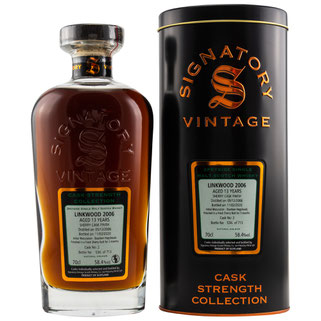 Nose
As one would expect from the dark colour, sherry aromas immediately rise to the nose, together with the typical dark dried fruit. Orange and some banana are added. With time spicier with notes of tobacco leaves, coffee and cigar box.
Palate
Powerful start on the palate. Here the high alcohol content is clearly noticeable. Chocolaty with a subtle mocha note. Warming and astringent. Over time creamier and fruitier with dark jam, some fig and a hint of cinnamon.
Finish
The finish is long and initially creamy with sticky fruit. Then clearly drier with oak, coffee, mocha and notes of tobacco leaves.
With water
Clearly more lively, sparkling and fruity on the nose after the addition of water. Dried fruit, dates, figs and orange lemonade make their way through the nose. Fruity, spicy and prickling on the palate with sticky fruit, a touch of tobacco and some coffee. The finish is still long, less warming, but much more spicy with oak, tobacco leaves, cinnamon and mocha.
Comments
A sherry cask finished Linkwood, which does not really convince me. The aromas are altogether very closed and for me not clearly interpretable. This single malt seems round but somehow one-dimensional. With water it becomes much more lively and gains some complexity.
I thank Kirsch Import e.K. for the complimentary sample and the photograph!