ABV
46%
Region
Isle of Islay
Bottling
Distillery
 
Cask type

Pinot Noir Wine Casks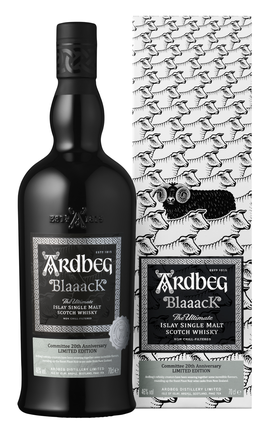 Nose
The nose starts with aromas of BBQ, bacon and sooty chimney air. Sweet notes of vanilla and orange are added. Over time, peaty notes emerge, paired with black smoked ham, some pepper and oak.
Palate
Sweetish and slightly spicy on the palate with smoke, vanilla cream, citrus and a touch of orange. Then warming spices with oak, cloves and allspice, combined with dark chocolate, slightly medicinal notes, peat, soot and old leather.
Finish
The finish shows a medium length with creamy vanilla, fruity orange, cold smoke, some peat, notes of black smoked meat and a whiff of soot.
With water
After the addition of a few drops of water, the nose is a little fresher with chimney air, soot, medicinal notes and a little vanilla in the background. Very dry on the palate. Creamy with some orange fruit and vanilla. Then spicy notes of oak, nutmeg, cloves and allspice. Smoky with some peat and soot. The finish is medium long, dry and slightly warming with subtle medicinal notes, oak and a touch of smoke.
Comments
A rich, full-bodied and varied Ardbeg. The influence of the red wine casks is not too dominant here. I especially like the harmony of vanilla sweetness, orange fruit and the smoky, bacony-sooty notes. An Ardbeg, the way it tastes to me.
I thank Moët Hennessy Germany for the complimentary sample and the image!