ABV
48%
Region
Lowlands
Bottling
Douglas Laing
 
Cask type

Finished in a Single Cognac Cask (402 btl.)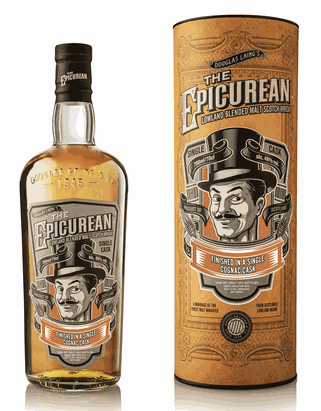 Nose
Fruity and fresh on the nose with limes, oranges, green apples and lemon sorbet. Accompanied by lychee and sweet vanilla. In the background some pastry and a touch of oak.
Palate
Sweet and fruity start on the palate with green apples, some pear and lychee, followed by creamy vanilla. Then clearly warming up with a good dose of spices like ginger, nutmeg and white pepper. Bitter orange peel, a touch of freshly cut grass and some oak spice linger towards finish. The spiciness increases with the 2nd sip.
Finish
The finish is of medium length, warming, spicy and creamy with notes of malt sugar, cedar wood, sweet vanilla and lime zest.
With water
Still fresh on the nose after adding a few drops of water. Lemons, lemonade and vanilla linger with ginger and some oak. Overall a little less fruity. Creamy, warming and spicy on the palate with nutmeg, clearly dry oak and sweet vanilla. Added to this are creamy notes of milk chocolate. The finish is of medium length, slightly creamy and again dry with oak, nutmeg and a touch of chocolate.
Comments
An interesting whisky from the Lowlands, where the selected single malts were allowed to further mature for some time in Cognac casks. The nose is perfect - fresh, very fruity and intoxicating. The warming spiciness on the palate surprised me very much and diminishes some of my positive impression. Nevertheless, a very pleasing whisky, where for me the aroma on the nose is clearly the winner!
I thank Douglas Laing for the photograph!