ABV
52.9%
Region
Germany
Bottling
Distillery (Online Edition)
 
Cask type

ex-Chardonnay Cask French Oak (#434, 495 btl.)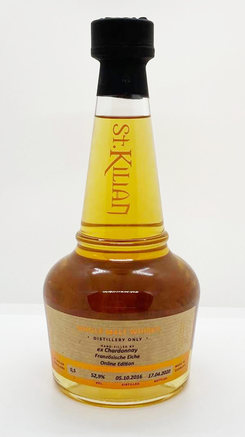 Nose
Fruity and fresh on the nose with gooseberry, apricot and light peach. Behind this are floral notes, accompanied by vanilla and a hint of citrus fruit. Slightly spicy with some oak and nutmeg. Overall very appealing.
Palate
Fruity start on the palate, accompanied by nice floral aromas, sweet vanilla, peach and toffee. This is then warming up with a peppery spiciness of the alcohol. Slightly bitter notes of grapefruit and grape skin nicely linger towards the finish.
Finish
The finish shows a medium length, with a creamy fruit, nutmeg and dry oak aromas. Again, slightly bitter grape skin on the tail.
With water
Much more lively and prickling on the nose after adding a few drops of water. Fruity and floral, but also with a noticeable alcoholic bite. Fruity on the palate, but this time less sweet and more spicy with cracked black pepper and chili. Warming with slightly metallic notes. The finish is of medium length and warming with creamy vanilla and a slightly bitter grapefruit note.
Comments
A young, fresh and fruity St Kilian single malt. After three and a half years of maturation in a former Chardonnay cask made of French oak, it shows a beautiful interplay of sweetness, fruit and floral notes, with a distinct but pleasant spiciness. Ideal drinking strength, because after dilution with water, the youthfulness of this whisky is revealed with a metallic touch.
I thank St. Kilian Distillers for the photograph!