ABV
48%
Region
Speyside
Bottling
Distillery
 
Cask type

American Oak Casks, Rye Wood Finis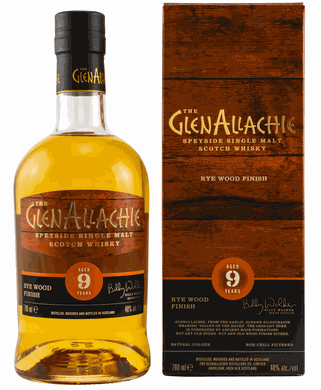 Nose
A fruity and spicy mix of apples, cinnamon and nutmeg on the nose, followed by honey and some butterscotch. A hint of orange zest in the background.
Palate
Full-bodied, rich and sweet on the palate with apples and honey, accompanied by cinnamon, nutmeg cloves and spicy oak aromas.
Finish
The finish is of medium length, spicy with nutmeg and cinnamon as well as apple compote and a touch of dry oak.
With water
More lively and prickling on the nose as soon as a few drops of water are added. Bright fruit with honey and floral notes. More tamed and less sweet on the palate with more spices - rye notes, cinnamon and cloves. The finish is still of medium length, but much more spicy and dry with oak, clove and nutmeg.
Comments
A successful mix of spice and sweetness. The rye finish provides dry spices that wonderfully complement the fruity distillery character of GlenAllachie. It is best enjoyed undiluted, as the fruity sweetness disappears when water is added and the spiciness gains the upper hand.
I thank Kirsch Import e.K. for the complimentary sample and the photograph!