ABV
43.9%
Region
Lowlands
Bottling
Douglas Laing
 
Cask type

Refill Barrel (172 btl.)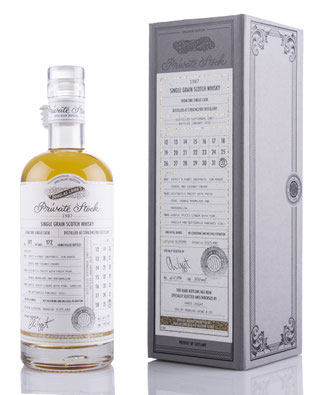 Nose
Sweet start on the nose with honey, vanilla and toffee. This is joined by notes of cereal, coconut and caramel sauce, followed by slightly spicy oak aromas.
Palate
Surprisingly fruity on the palate with distinct notes of pear, apricot and banana. Then creamy and sweet with toffee and orange marmalade, accompanied by spicy oak and nutmeg. Pleasantly warming with a touch of astringency. Becomes creamier again towards the finish.
Finish
The finish is long lasting with aromas of vanilla, pancakes, orange zest and some pine wood.
With water
More lively on the nose after the addition of a few drops of water. Vanilla and cereal notes remain, but sweetness and fruity notes are tamed. Sweet on the palate at first, but then very dry with oak, nutmeg and ginger. Towards the end, fruity aromas of apricot and pear shine through. The finish is still long, slightly warming and creamy with vanilla notes.
Comments
A very lively Strathclyde that once again shows how exciting well matured Grain Whisky can be. The wonderful fruity notes are in good balance with the oak spice from the refill barrel: fruity, creamy and spicy. A great dram, which one can enjoy without adding any water.
I thank Douglas Laing for the photograph!